The following companies will be presenting at the Pan European Investor Conference. The table can be organized by sector, country, etc.
Please indicate your meeting interest on the registration page.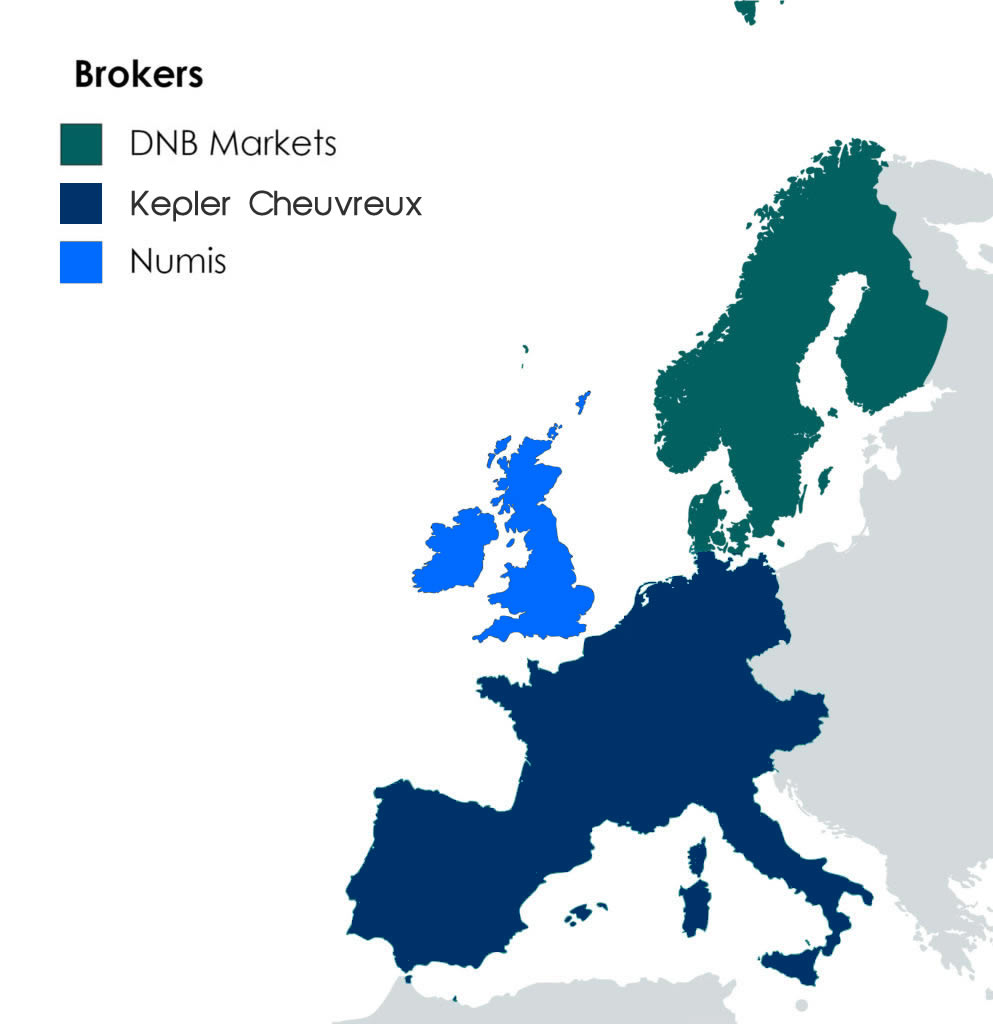 Please find for reference here below the companies that participated in the PEIC 2022 edition.
Companies that have signed up for PEIC 2023, will be uploaded as from May.
Company
Presentation
Broker
Country
Sector
Market cap


(Billion)

Delegates
Nov 29
Nov 30
Dec 1
BASF SE

Germany
Chemicals
EUR 37.0
Alex Koehler (IRO)

No
Yes
No
ASCENTIAL GROUP

United Kingdom

Media

USD 1.1

Duncan Painter (CEO)
Yes
No
No
ST. JAMES'S PLACE PLC
United Kingdom
Diversified Financials

USD 6.8


Craig Gentle (CFO), Hugh Taylor (IR)

No
Yes
No
RIGHTMOVE PLC

United Kingdom
Media

USD 5.7

Peter Brooks-Johnson (CEO), Alison Dolan (CFO)

Yes
No
No
3I GROUP PLC
United Kingdom
Diversified Financials
USD 12.6
James Hatchley (CFO); Silvia Santoro (Group IR Director).

No
No
Yes
PAGEGROUP PLC
United Kingdom
Support Services

USD 1.5

Kelvin Stagg (CFO),
Nick Kirk (CEO designate)
No
No
Yes
RELX plc


United Kingdom
Media

USD 48.7

Nick Luff (CFO),
Colin Tennant (HIR)
Yes

No
No
AIR LIQUIDE

France

Chemicals

EUR 63.9
Marcelo Fioranelli (Airgas CEO),
Joe Marczely (US IR Manager)

No
Yes
No
ARCELORMITTAL


Luxembourg

Steel

EUR 20.6
Daniel Fairclough (HIR & Member of the Management Committee)

Yes
No
No
BNP PARIBAS GROUP



France

Banks

EUR 57.4
Lars Machenil (CFO),
Didier Leblanc (IRO)
No
No
Yes
CAPGEMINI


France

IT Services

EUR 27.9
Vincent Biraud (HIR)

No
Yes
No
GRUPO SANTANDER



Spain

Banks

EUR 42.6

Paula Cricca (Executive Director, IR North America)
Yes
No
No
REMY-COINTREAU



France

Beverages

EUR 9.0

Luca Marotta (CFO), Celia d'Everlange (HIR)

Yes
No
No
SANOFI



France

Pharmaceuticals

EUR 99.1

Jean-Baptiste de Chatillon (CFO), Felix Lauscher (VP IR), Priya Nanduri (IRO)

No
Yes
No
SGS


Switzerland
Business Services

EUR 16.7

Dominik de Daniel (CFO),
Livia Baratta (IR Manager)

No
Yes
No
VEOLIA



France

Utilities

EUR 13.9

Ronald Wasylec (Deputy CFO)

Yes
No
No
ASSA ABLOY
Sweden
Industrials
USD 22.5
Björn Tibell (HIR)
Yes
No
No
AKER BP
Norway
Energy
USD 21.2
Kjetil Bakken (VP IR), Martin Simensen (IRO)
No
Yes
No
ORKLA
Norway
Consumer Discretionary
USD 8.6
Nils K. Selte (CEO),
Johan Clarin (EVP & CEO of Orkla Food Ingredients),
Kjetil Sorum (IR Manager),
Kari Lindtvedt (SVP IR)
Yes
No
No
TOMRA
Norway
Industrials
USD 5.8
Tove Andersen (CEO)
Yes
No
No
VÅR ENERGI
Norway
Energy
USD 9.2
Torger Rød (CEO), Ida Marie Fjellheim (HIR)
No
Yes
No
BEAZLEY PLC
United Kingdom
Insurance
USD 4.2
Adrian Cox (CEO),
Sarah Booth (IR)
No
Yes
No
DEUTSCHE POST
Germany

Transport & Infrastructure

EUR 36.3
Martin Ziegenbalg (HIR),
Agnes Putri (Sr. IR Manager)

Yes
No
No
ORANGE
France

Telecommunications

EUR 25.2
Patrice Lambert de Diesbach (HIR & Financial Communication),
Aurélia Roussel (Deputy HIR)
Yes
Yes
No
PHILIPS


Netherlands

Medtech & Services

EUR 13.1
Leandro Mazzoni (HIR),
Derya Guzel (IR)
No
Yes
No
KEYWORDS STUDIOS PLC

Ireland

Technology

USD 2.1
Jonathan Hauck (CFO),
Giles Blackham (IR)
No
No
Yes
SPECTRIS PLC

United Kingdom

Capital Goods

USD 3.2
Derek Harding (CFO)

No
Yes
No
SOCIÉTÉ GÉNÉRALE
France
Banks

EUR 17.2
Claire Dumas (CFO),
Vincent Robillard (HIR)
Yes
No
No
BURFORD CAPITAL, LTD
United Kingdom

Diversified Financials

USD 1.6
Jordan Licht (CFO),
Jim Ballan (Director & HIR, Americas)
No
No
Yes
INCHCAPE PLC

United Kingdom

Consumer

USD 2.8
Raghav Gupta-Chaudhary (IR)
No
No
Yes
SPIRENT COMMUNICATIONS PLC

United Kingdom

Technology

USD 1.6
Eric Updyke (CEO)

No
No
Yes
ALSTOM

France

Capital Goods

EUR 7.1
Laurent Martinez (CFO),
Martin Vaujour (VP of IR)
No
Yes
No
ENEL

Italy

Utilities

EUR 41.8
Francesco Starace (CEO & General Manager),
Alberto De Paoli (CFO),
Monica Girardi (HIR)
No
No
Yes
HENKEL

Germany

Food & HPC

EUR 26.3
Jennifer Ott (Sr. IR Manager),
Leslie Iltgen (HIR)

Yes
No
No
NOVO NORDISK

Denmark

Health Care

EUR 245
Mark Joseph Root (IR, North America)

No
Yes
No
BBVA

Spain
Banks
EUR 31.1
Ricardo Marine (Executive Director - Investor Relations)
Yes
No
No
INTERTEK GROUP PLC

United Kingdom

Business Services

USD 7.0
Denis Moreau (VP of IR)

No
No
Yes
YOUGOV PLC
United Kingdom

Media

USD 1.1
Alex McIntosh (CFO),
Hannah Jethwani (IR Director)

No
No
Yes